• bdsm collar crystals • black leather • black leather mask • leather bunny mask • leather jewelry • ooak leather collar • ooak leather mask • rabbit mask • sparkly leather mask • swarovski • swarovski crystals • swarovski leather • tampa bay leather • tampa bdms collar • tampa leathercraft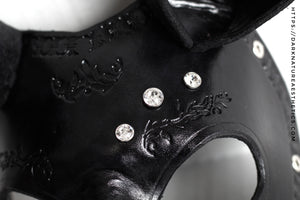 For years I've been constantly rolling my eyes at the mention of "Swarovski crystals" anywhere since I thought "Well they're still made of glass and can't be that different. This is just great marketing and hype in action." Until one day I decided to read more about the product and see if it makes sense scientifically.   To my understanding, the process of creating them is a patented secret (nothing surprising here), but I didn't see any scientific red flags that would assign impossible attributes to the crystals.   Something else that made an impression on me is that they...
---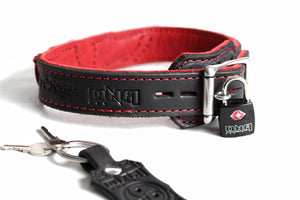 Hello! This is our first blog post ever! We're so excited that we're finally starting on this journey and you've decided to join us here on the internets!   This post will be all about buckles with regards to our leather bondage collars and cuffs and the decisions we've made designing them.   Back when we started making our BDSM products, we used only standard single-prong buckles. This turned out to be ok but we kept having requests for locking buckles on our fetish collars and cuffs. The problem back then was that we couldn't find a supplier who sold...